6 Capabilities Your School CCTV System Should Have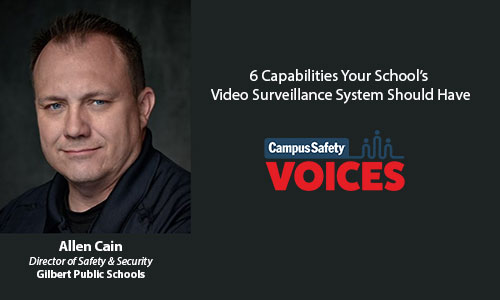 Podcasts
Gilbert Public Schools Security Director Allen Cain assembled a team to decide on the capabilities needed in a new district-wide video surveillance system.
Listen to this podcast using the embedded player below
Year after year, security professionals in K-12, higher education, and hospitals continue to use video surveillance to protect their campuses. A whopping 94% of everything 2021 Campus Safety Respondents to the CCTV survey reported having CCTV systems deployed on their campus(es). These campuses use their security cameras for many things including entry/exit monitoring and visitor verification. Technology can deter would-be criminals, help locate unwanted visitors, and aid in investigations, among other things.
The recent survey also found that campuses are increasingly acquiring and upgrading their systems. About 32% of K-12 respondents said they have adopted as new or upgraded their fixed security systems in the past two years, and also plan to purchase more in the next two years . Additionally, 12% said that although they have not purchased new systems or upgraded their current systems in the past two years, they plan to do so in the next two years.
Although it is not difficult to see how CCTV can play an important role in protecting campuses, choosing a vendor can be. The breadth of options available can be overwhelming, and each campus's needs are unique. Allen Cain, director of safety and security at Gilbert Public Schools in Arizona and a 2022 Campus Safety Runner-up for Director of the Year, was tasked with implementing a district-wide CCTV system.
"When I started, we had cameras, and I say that loosely because we really didn't have them in our elementary schools. Our high schools and middle schools had some form of camera system," Cain described. "Some of our schools had cameras from Radio Shack, some from Costco, some from Best Buy.Basically, we had a hodgepodge of camera systems that couldn't be controlled from a single company software. »
The
Campus Safety
The Director of the Year Awards honor the best and brightest executives in the fields of hospital, college and school security, law enforcement and emergency management. The 2022 winners will be announced at this year's Campus Safety Conference East, taking place June 20-22 in Bethesda, MD. For more information and to register, visit
CampusSafetyConference.com
.
Before choosing a vendor, Cain assembled a team to decide what features they were looking for in a new system and to review candidates who responded to a request for proposal (RFP) (12:00).
"We put together a team that consisted primarily of staff from our Gilbert Public School, but we also included other stakeholders who had a vested interest in this new infrastructure," he said. Campus Safety. "We have included school resource officers, several members of our technology team [since] these cameras are very technology driven. We have included directors and several members of our [finance] Desk."
First, Cain knew the district needed a corporate system that could be monitored from a central location and cameras that could feed each campus' respective police department (12:59).
"We met with the company that ultimately won the tender and we built a SOC, or Security Operations Center, right here in my office. Each of our cameras, once this project is complete, will power this piece. Each campus will have the ability to see their own cameras, but everything else will feed into the SOC right here," Cain said. "We have schools that are within the Gilbert city limits and some of them are in the city of Mesa, so those will have the ability to share [with those respective departments.]"
Cain also wanted a system with advanced analytics to enable people and property searches.
"We want to be able to know if someone has asked you, 'Well, where did that kid go?' or 'That book or that computer was there and now it's gone,'" Cain said. "With new technology, I can put a box around this device and in 30 seconds I can tell you to the second when this device has moved or when this product that was in this box has moved."
Although not a technology capability, Cain was looking for a vendor that could offer a long-term service plan. He's chosen a five-year plan that covers everything that breaks and includes twice-a-year camera wipes for a "fresh view."
"We wanted the company that won the tender to be able to step in and maintain these cameras. The tech is great, as long as it works properly, but sometimes the cameras malfunction or break, especially in Arizona – the ones outdoors and some extreme heat.
Finally, the biggest capability he was looking for was ease of use.
"The system we have chosen is super user-friendly. In fact, I do the trainings as we progress to the new schools. I train administrators and security personnel," Cain said. "I could train you on our camera system in about 45 minutes."
In our discussion, Cain also touched on the following points:
Other changes, he acknowledged that his district should be about school safety (1:37)
How he partnered with the operations department to build secure entrances (5:09)
Advice he has for campuses looking to undertake a similar CCTV project (18:26)
Watch our full interview here or listen on the go Apple Where Spotify.