COVID-19 hospitalizations and case rates continue to skyrocket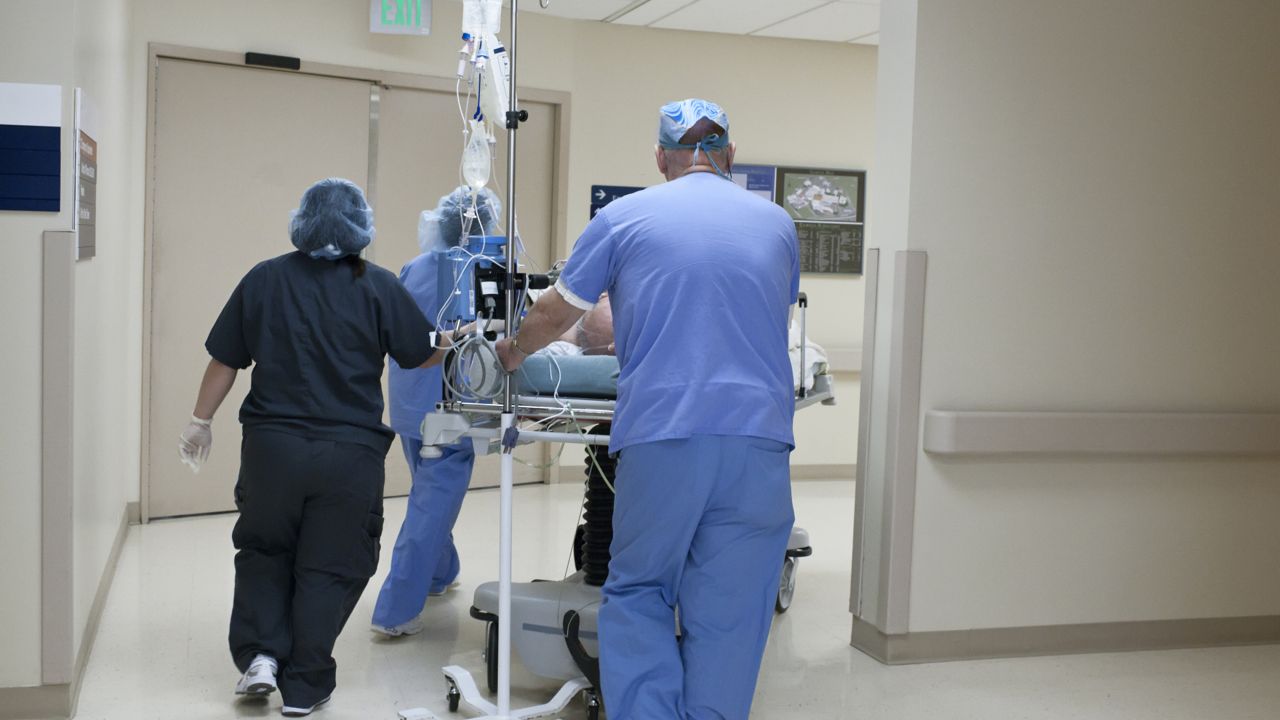 [ad_1]
SANTA ANA, Calif. (CNS) – COVID-19 hospitalizations in Orange County rose again on Wednesday, reaching levels not seen in three and a half months, according to data released by the health care agency of Orange County.
The number of hospitalizations fell from 322 Tuesday to 376 Wednesday, the number of patients in intensive care from 66 to 72.
"I can't tell you where the peak will be, but it will continue to rise," said Andrew Noymer, epidemiologist and professor of population health and disease prevention at UC Irvine.
"Tomorrow will be higher than today," Noymer told news sources. "That's normal for the course. It'll be another tough January. It's just a little harder to know where it's going to peak. But it's going to get worse before it gets better. What we're seeing is a strain which is more contagious and with a shorter incubation period, causing cases to skyrocket. "
According to OCHCA data, the last time a fully vaccinated person was hospitalized was on December 10, but Noymer said that should change.
"We are going to start seeing elderly people vaccinated without a booster in the hospital," Noymer said.
The last time hospitalizations were this high was on September 13.
The county has 20.9% of its intensive care unit beds and 68% of its ventilators. Among those hospitalized, 87% are not vaccinated and 88% of people in intensive care are not vaccinated.
Dr Dan Cooper, pediatrician and associate vice chancellor for clinical and translational sciences at UC Irvine, agreed with Noymer that K-12 schools should remain open despite the highly infectious strain of omicron gaining a foothold on the delta variant. already very contagious.
"My thoughts haven't changed in two years," Cooper told news sources. "We have to keep the schools open. I said that then because even then it was clear that the original COVID was not affecting children so badly."
And while children can be a "reservoir" of COVID-19 and help spread it, Cooper said whether or not they go to school, they will continue to be vectors. Last year, for example, a lot of impromptu hobbyist daycares popped up because parents still had to work, so the kids were out anyway, helping to spread the virus, he said.
"There were absolutely no regulations on what went on in the small apartments," Cooper said. "The idea that keeping children out of school prevents them from spreading the disease is not proven and it is probably not true."
Distance learning presents its own issues with the lack of socialization affecting the mental health of students and possibly contributing to the obesity epidemic, Cooper said. It also leads to a "general decrease in learning," he added.
Cooper continued to preach the wisdom of getting children immunized. Cooper said he attended a discussion with parents at the Orange County Children's Hospital this week and understood the concern over the vaccines.
"I think we need to look at the data, but the data looks so good and the number of children with serious effects is so low," Cooper said.
The doctor said parents should keep in mind that even with the flu, the long-term consequences can be serious.
"The flu can make them vulnerable to heart disease for the rest of their lives," he said, adding that a case of mono can lead to chronic fatigue syndrome.
"I'm not quite ready to say it should be mandatory," he said of the coronavirus vaccines. "But I'm getting closer."
So far, the county has officially sequenced four cases of omicron, according to data from OCHCA.
The adjusted daily case rate per 100,000 population fell from 15 Tuesday to 18 Wednesday. The test positivity rate fell from 4.5% to 5.4% and from 4.4% to 5.1% in the health equity quartile, which measures the underserved communities hardest hit by the pandemic.
The county reported 2,749 more infections, bringing the cumulative total to 332,761, and recorded five more deaths, bringing the total death toll to 5,888.
All of the deaths on Wednesday occurred this month, bringing the death toll in December to 40.
The death toll in November stands at 101, 127 for October, 196 for September and 182 for August.
In contrast, the death toll before the more contagious delta variant fed a summer wave was 31 in July, 19 for June, 26 for May, 46 for April, 202 for March and 620 for February.
January 2021 remains the deadliest month in the pandemic with a death toll of 1,596, ahead of December 2020, the next deadliest, with 985 people lost to the virus.
The case rate per 100,000 population for unvaccinated people was 30.9 as of December 18, according to the most recent statistics available. This is against 25.4 on December 11.
For those vaccinated, the case rate was 6.8, compared to 3.8 on December 11.
The number of fully vaccinated residents in Orange County rose from 2,295,286 to 2,314,232, according to data released Thursday. This represents 67% of the county.
This number includes an increase from 2,144,648 to 2,162,816 residents who received the two-dose regimen of Pfizer or Moderna vaccines.
The number of residents receiving the Johnson & Johnson single-dose vaccine increased from 150,638 to 151,416. The county had distributed 768,412 booster shots as of that date.
[ad_2]