Eric Nuttall: OPEC running out of spare capacity confirms our multi-year bull case for oil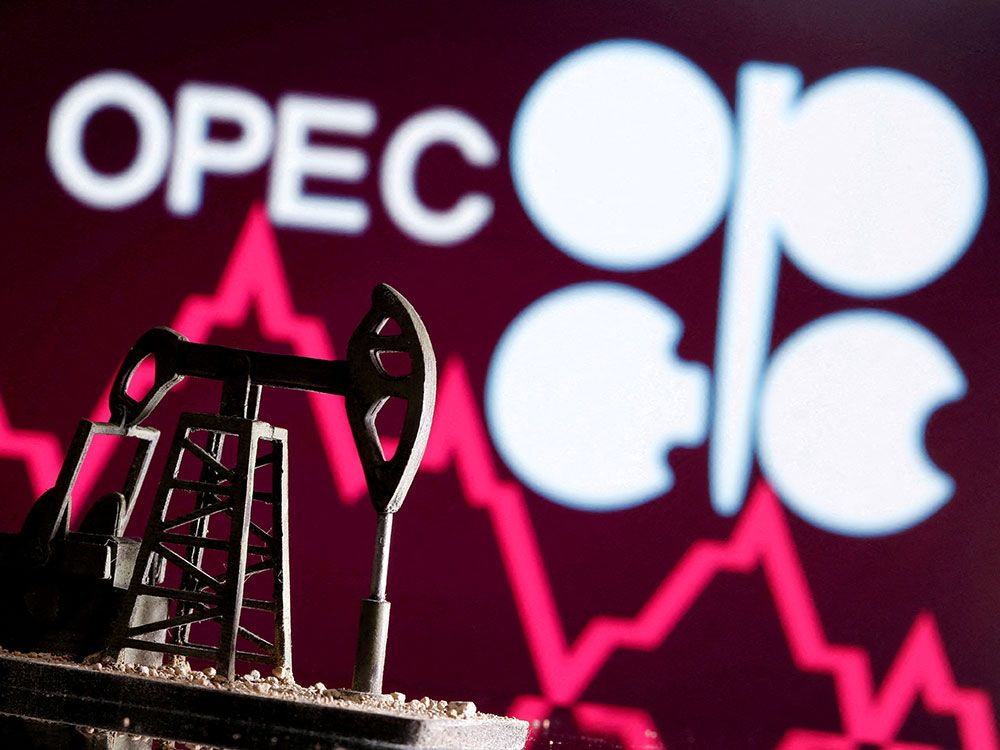 Oil companies will generate high returns for investors for much longer than people think
Content of the article
Imagine life without insurance. The constant worry of an unexpected accident, like your house burning or your car being stolen, causing financial havoc without the economic certainty that everything will be fine in the end. This is where the world is heading in the coming months.
Content of the article
The spare capacity of the Organization of the Petroleum Exporting Countries, the equivalent of insurance in the petroleum market, has been available since the 1960s to avoid large price spikes by smoothing out periodic interruptions in supply caused by geopolitical events.
Today, due to too many years of underinvestment, as social spending and sovereign revenue needs eclipsed those for investment in additional capacity during a multi-year period of low oil prices, capacity unused OPEC oil is set to run out. This impending reality will be a watershed event and will have huge implications for the oil market that investors must urgently appreciate.
For more than a year, we have argued that the world is hurtling into an energy crisis of epic proportions that would result in a multi-year bull market in oil. Our bullish thesis was based on four basic tenets: persistent demand growth for at least the next 10 years, an end to U.S. shale hyper-growth, defined as shale production growth rates which no longer outpace global demand growth, stagnant production growth from the global super-majors resulting from eight years of insufficient investment and, finally, the depletion of spare OPEC capacity.
Content of the article
The most difficult of these four fundamental hypotheses to prove was by far the last. US shale growth rates could be predicted by talking to oil executives and modeling company cash flows. You could easily see that spending by super-majors peaked in 2014, falling to half those levels today, while also being burdened by growing pressures to decarbonize, so we can predict and model stagnant growth for coming years. And demand growth has been stimulated in the short term by the emergence of the global lockdown, and is supported in the medium to long term by the realities that prevent alternatives from reaching sufficient critical mass to significantly move oil to the over the next few decades.
OPEC's spare capacity, however, was the trickiest. Monthly data published by several different sources can vary greatly. Given the strategic importance of oil revenues to many Gulf states, hard data on production capacity has sometimes been considered state secrets and either difficult to obtain or taken with some skepticism. How then can we be so sure that OPEC's spare capacity is close to exhaustion? Because they just told us.
Content of the article
Last week, the Royal Bank of Canada hosted a spectacular energy conference in New York, culminating in a keynote address by Mohammed Barkindo, the Secretary General of OPEC. That same night, I had the chance to have dinner with him, which for an energy enthusiast was the equivalent of a tech investor getting together with Elon Musk. I found him a warm, insightful, soft-spoken and surprisingly outspoken gentleman.
In his keynote address, Barkindo warned that "OPEC is running out of capacity" and that "with the exception of two or three members, all are maxed out." Moreover, "the world must come to terms with this brutal fact" and that it is a "global challenge".
It is difficult to describe the immense satisfaction that came that day, to see one of the foundations of our thesis, still largely underestimated by investors and the oil market, being affirmed by the head of OPEC .
Content of the article
Why is this so incredibly important? Well, what if the US Federal Reserve ran out of hard currency? He would simply print more, with new bills sent to the banks via an armored car the next day. For oil producers, the cycle time to produce more oil is not measured in days, but in years.
Eric Nuttall: It's not too late for investors to join the oil party

Eric Nuttall: Energy stocks remain woefully undervalued despite massive bullish backdrop

Oil at $180 is inevitable: Eric Nuttall
In May, Amin Nasser, chief executive of Saudi Arabian Oil Co., said it would take what is considered the most sophisticated oil company on the planet five years to increase its capacity by one million barrels per day. . He was quoted by Reuters as saying: "If we could do it before 2027, we would have done it. This is what we tell policy makers. It takes time."
Content of the article
With short-cycle U.S. shale expected to grow at a fraction of historic rates, the world is now almost entirely dependent on long-cycle production, but global super-majors are entrenched in a years-long stagnation due to too many years of underutilization, and now OPEC, short of additional capacity, is constrained by the same challenge.
If Amazon Prime is the equivalent of short-cycle US shale production with near immediate delivery, then the equivalent of long-cycle production from OPEC and the global super-majors is slow transatlantic freighter. It just "takes time", usually four to six years, to complete large, very expensive projects. That's why we think we're in a multi-year bull market for oil: it's all about cycle time and the possibility that demand growth won't be met.
Content of the article
With oil inventories already at multi-year lows, demand back to pre-COVID-19 levels, and structural challenges to supply growth, we believe oil prices will need to act as a mechanism. destructive of demand, reaching a level high enough to kill discretionary investments. demand, thus balancing the market, while remaining there long enough to give the super-majors the confidence to start spending adequately again.
Given industry cycle times of four to six years, we believe oil companies are designed to generate extremely high returns for investors for much longer than people realize, leading to revaluation relative to valuation levels that still imply that the end of oil is near.
Eric Nuttall is a Partner and Senior Portfolio Manager at Ninepoint Partners LP.
_______________________________________________________________
If you liked this story, sign up for more in the FP Energy newsletter.
________________________________________________________________