Oil surged on robust OPEC demand optimism and supply disruptions in Kazakhstan and Libya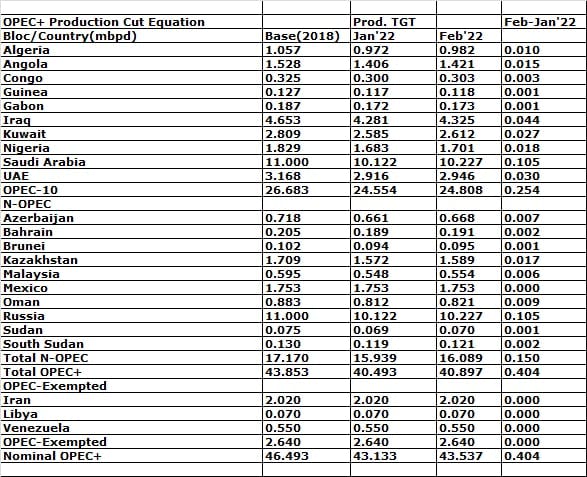 Oil (WTI-Jan Exp) hit a 5-week high around 80.45 on Friday morning and is heading for its third weekly advance as the market braces for a tight supply amid the public unrest in the Kazakhstan and supply disruptions to Libya. Kazakhstan's largest oil producer has shifted output at the giant Tengiz field following widespread public protests against inflation (rising fuel prices / taxes) in a country that currently produces 1.6 mbpd. Libyan oil production is also down by more than -0.50 mbpd due to pipeline maintenance and oil field closures. Although Kazakhstan contributes only about 2% of global crude production, any potential disruption that persists could be significant, if it lasts for an extended period.
In addition, a deep freeze in Canada and the northern United States is disrupting oil flows, causing crude prices to soar just as U.S. inventories are dwindling. The disruptions mean fewer supplies at a time when US inventories have been declining every week since mid-November and are approaching the three-year low in September. U.S. drillers have been slow to restore production to pre-pandemic levels as they prioritize shareholder returns over growth amid the euphoria over the green transition. The market assumes again that the oil market will return to a deficit this year.
This optimism has prompted OPEC + to maintain its current policy of modest monthly increases in production, citing a slight and short-lived impact on the fuel demand of the omicron variant. Oil (WTI-Jan Exp) hit a 5-week high around 77.64 on Tuesday amid robust demand optimism as OPEC + continued to ramp up production despite Omicron spikes . Tuesday, as expected, OPEC + continued to decrease production; i.e. a gradual increase in production @ 0.4 mbpd / M for February 22 as well, not citing any major headwinds from Omicron as mild, this may not be the result of a full lockdown in major oil consuming countries (such as the United States, China, India and Europe).
OPEC issued an official statement:
Following the formal conclusion of the 23rd OPEC and Non-OPEC Ministerial Meeting (ONOMM) held by videoconference on Thursday, December 2, 2021, and in view of the current fundamentals of the oil market and the consensus on its outlook, OPEC and non-OPEC OPEC participating oil-producing countries:
Reaffirm the decision of the 10th OPEC and Non-OPEC Ministerial Meeting on April 12, 2020 and further endorse it at subsequent meetings, including the 19th OPEC and Non-OPEC Ministerial Meeting on July 18, 2021 .
Reconfirm the production adjustment plan and monthly production adjustment mechanism approved at the 19th OPEC and non-OPEC ministerial meeting and the decision to adjust upwards the overall monthly production by 0.4 mb / d for the month of February 2022, according to the attached schedule.
Reiterate the critical importance of adhering to the full compliance and compensation mechanism by taking advantage of the extension of the compensation period until the end of June 2022. Compensation plans should be submitted in accordance with the declaration of the 15th Ministerial Meeting of OPEC and non-OPEC countries.
According to reports, in November, OPEC and non-OPEC countries achieved an overall compliance level of 122% and 107%, respectively.
Overall, OPEC + cut production by -9.70 mbpd on March 20 (after the COVID lockdown caused demand to drop) and continues in the same way until August 20, then increases production of +2.00 mbpd from September to December 20 in a context of gradual unlocking and recovery in demand. OPEC + increased its production by +0.50 mbpd each month from January 21 to April 21. The production reduction of OPEC + fell from -9.70 mbpd to -5.70 mbpd in April 21. Now, OPEC + increases by @ + 0.40 mbpd / M from August 21 and aims to unwind the remaining decrease of -5.70 mbpd by September 22 (14 months).
The OPEC + Joint Technical Committee (JTC) noted that the cartel expects the impact of the mutant Omicron on the oil market to be mild and temporary, leaving the door open for a further increase in production. In the base case scenario of the JCT report, OECD commercial oil inventories in 2022 will remain below the 2015-19 average in the first three quarters (Q1-Q3) and exceed that average by 24MB in the fourth quarter. The scenario assumes that 40MB is released from US Strategic Petroleum Reserves (SPRs) in the first half of the year, and 13.3MB will be released to the US SPR in the third quarter. The report kept the forecast for oil demand growth in 2021 and 2022 unchanged at 5.7 mbpd and 4.2 mbpd respectively.
The JCT report said:
"The impact of the new Omicron variant is expected to be light and short-lived as the world becomes better equipped to deal with COVID-19 and its related challenges. This is in addition to a stable economic outlook in advanced and emerging economies. ".
Overall, with the exception of Saudi Arabia, most OPEC producers are no longer able to increase their production significantly, so the overall OPEC + production increases by +0.40 mbpj every month. The actual volume that OPEC + adds to the market in February may be lower than expected, due to some members struggling to meet their production targets. According to some estimates, OPEC + may be able to increase oil production by +0.25 mbpd in February amid persistent production constraints coupled with compliance with the offset reduction (for previous overproduction).
At the end of the line :
Oil continues to be in deficit; that is, demand is greater than supply despite the gradual increases in OPEC +. But looking to the future, the growing Omicron / COVID tsunami may also be of concern. While there may not be a total nationwide Omicron lockdown, increasing restrictions on travel and tourism, the return of the WFH and localized partial lockdowns / nighttime curfews etc. , will reduce demand to some extent. The pandemic can become endemic from H1CY22 amid the deluge of natural and man-made infections. So the world might not return to full normalcy until the end of 2022 and by then oil might be dependent on the COVID curve.
Technically, whatever the story, oil must now maintain levels above 81.00 to 82.00 for 85 and over; if not, it can correct again towards the 73.00-66.00 and 61.00 levels.