Park projects, objectives on the agenda of the municipal commission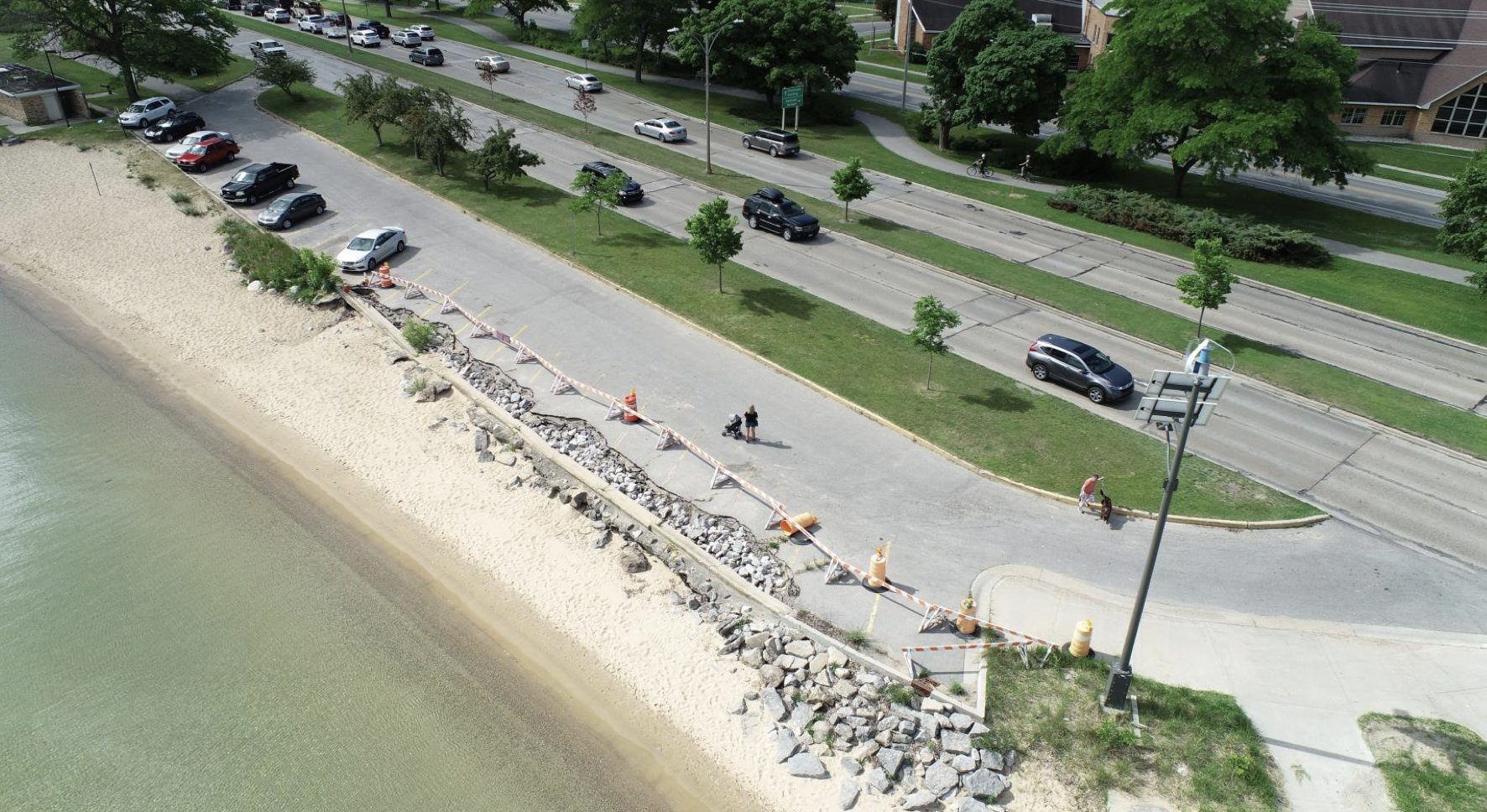 Traverse City commissioners will discuss several parks and recreation-related improvement projects at their Monday meeting, including repairing the West End Beach parking lot, completing design and engineering work for the renovation and the extension of the TART trail, and the continuation of discussions on the expansion of the city's volleyball courts. Commissioners will also receive a 2022 Winter Road Maintenance Report and will meet jointly with the Planning Commissioners to discuss future goals and priorities.
Parks/Recreational Projects
One of the few public parking lots along West Grand Traverse Bay's two miles of downtown waterfront could get some much-needed TLC after years of partial closure (pictured) City commissioners will discuss on Monday a project to repair the western half of the West End Beach parking lot, which failed several years ago due to extensive water damage. City staff reached a nearly $79,000 contract with Team Elmer's to fix the lot on the June 6 city commission's consent schedule, but commissioners withdrew the contract and demanded a separate meeting to discuss the project.
On Monday, staff will give a presentation on the need for repairs. According to staff documents, West End Beach has one of the few public parking lots along the downtown bay (excluding Clinch Park Marina and NMC's Hagerty Center) and is heavily used year-round, especially because it is adjacent to a protected bathing area. Despite the failure of half the parking lot, visitors continue to parallel park along the damaged area, and the extent of the damage "continues to increase", staff said. The on-site stormwater system is also unusable, which poses a threat to water quality. The damaged area of ​​the lot poses a "significant" risk of injury to visitors, staff continued, "for which the city would likely be responsible."
Part of Monday's discussion is expected to focus on whether to simply fix the pitch or consider a complete overhaul of the area. Staff noted that there were different timelines and costs associated with these two approaches and stressed the urgency of completing grounds maintenance now – especially as the city has a pending grant application. for the construction of two new bathhouses at West End Beach and at the volleyball courts. The staff said accessibility is one of the criteria the state considers in its grant review, and that "elimination or significant alteration (of parking) during this time could jeopardize the application."
A redesign of the West End Beach parking area — such as moving the bike lane north to avoid bike/vehicle conflicts — "can still be pursued as a separate, parallel planning exercise," said the staff, adding that such an effort would be the best. coordinated with the 2025 Grandview Parkway / M-22 / South West Bay Shore Drive State Reconstruction Project between Division Street and Cherry Bend Road. In the meantime, staff recommend moving forward with a maintenance project – similar to the one being implemented at Slabtown Beach – to use larger riprap boulders to stabilize the shoreline, filling in voids with smaller pebbles. A geotextile separation layer, eight inches of sand and a vegetation cover will also help mitigate erosion, with the grass cover making it "easier and safer to access the beach without having to walk and carry equipment over rip rap," staff said.
Commissioners on Monday will also give feedback on a request for proposals (RFP) to find a firm to provide final design engineering and construction administration to upgrade and expand the TART trail between Division Street and Garfield Avenue/Peninsula Drive . According to City Planning Director Shawn Winter, "The 2024 reconstruction of Grandview Drive from Garfield Avenue to Division Street provides an opportunity for immediate and long-term improvements to non-motorized transportation along the corridor". The city and the Downtown Development Authority (DDA) have earmarked $150,000 each for engineering services, with TART Trails committing an additional $200,000. The initial project design calls for the TART Trail to be widened to a 16-foot multi-use trail between Division Street and the Traverse City Senior Center, and a 12-foot trail east of the Senior Center.
A multi-use trail on the south side of Grandview Parkway between Division and Hall streets and a "shared and integrated trail course within the Delamar property" are also included in the scope of the RFP. Other improvements could include improvements to the trails around the Murchie Bridge, seating, gazebos/plazas, water stations, and opportunities for educational signage and public art along the downtown trail. The consultant will be responsible for providing recommendations that improve and protect riparian habitat and water quality, prioritizing viable year-round non-motorized transportation and helping to secure necessary property easements. After getting feedback from city commissioners, Winter says he hopes to launch the tender on July 12.
Commissioners will also revisit ongoing discussions on Monday about the possible expansion of downtown volleyball courts. Parks and Recreation commissioners voted 4-3 in January to approve a proposal to add two new volleyball courts downtown, bringing the total number to eight. While the city has made improvements, including replacing the volleyball court sand this spring, City Manager Marty Colburn has asked commissioners to put the court expansion on hold. Colburn said the city has "very limited land" along West Bay and should have more planning conversations before moving forward with using that space for additional courts. Monday's discussion will include a review of the court expansion proposal as well as an analysis of the city's volleyball league program, including its costs, fees, staffing and attendance.
Also at Monday's meeting…
> City Manager of Utilities Frank Dituri will present a 2022 Winter Road Maintenance Report outlining how City staff continue to clear approximately 108 miles of streets/alleys and 103 miles of paved sidewalks/pathways in a city that averages 118 inches of snowfall annually. Dituri will also examine the city's use of salt — a hot topic among some commissioners who are pushing the city to reduce and eventually eliminate its salt use — as well as the city's use of salt alternatives like Beet Heet. Dituri notes that future winter maintenance upgrades could include a "state-of-the-art automated fluid mixing facility", increased use of in-floor temperature sensors, continued collaboration with cameras and stations state meteorological services, pilot programs to test new products and community educational campaigns.
> Monday's meeting will begin with a joint session between City Commissioners and Planning Commissioners to discuss the 2022-23 goals and objectives. Parallel Solutions consultant Megan Motil will moderate the discussion. According to Winter, the joint session will focus on "clearly identifying the roles and responsibilities of the city commission, planning commission and city staff," identifying areas of overlap and alignment between the goals of the two councils, establishing collaborative opportunities, executable staff steps to implement goals and holding council and staff commissioners accountable "with a sense of responsibility and direction". One hour was allocated for discussion.
Photo credit: Town of Traverse City