Vehicle crashes into wall of R & J building | New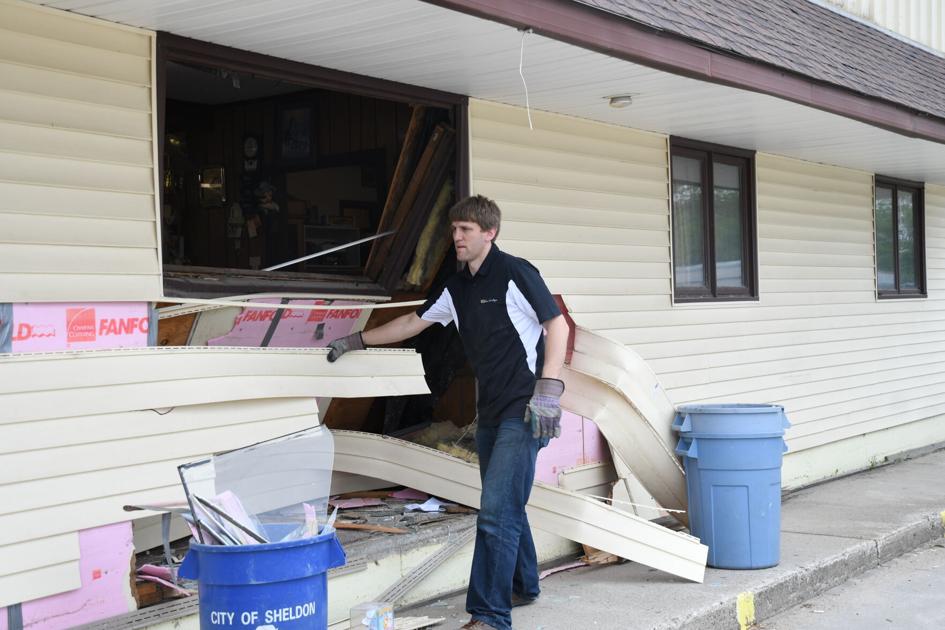 SHELDON – R&J's old new and used furniture building in Sheldon was open for a few hours when drive-thru was almost added, but not because of the choice of the building's new owner.
Day one of the clearance sale ended when a potential customer accidentally drove their vehicle into the south side of the R&J building at 706 Second Ave. Tuesday afternoon, May 18.
With a hole in the side of his building, new owners Daniel and Dennis Ten Clay were forced to shut down R & J's for the rest of the day to make temporary repairs to the structure.
The sale continued, however, as the former Bomgaars at 528 Second Ave. serves as the second location for the R&J clearance sale.
After removing and cutting some of the siding and wall, the hole at R&J was covered with wood and the site was reopened at 9 a.m. on Wednesday, May 19 for the sale, which ends on Saturday.
There were no injuries in the vehicle-to-building accident at around 1:30 p.m.
The accident happened as Eileen Rosenthal Schwartz was parking a 2006 Toyota Highlander in a location on the north side of R & J's.
As the 74-year-old Schwartz walked toward the sidewalk, her foot slipped off the brake and the vehicle accelerated, causing him to tip onto the sidewalk and into the building, according to the Sheldon Police Department.
The checkout counter is located in the area where the Toyota Highlander walked through the building and Deb Ten Clay – Daniel's mother and Dennis' wife – was behind the counter.
After being examined, Ten Clay was listed as unharmed, according to the accident report.
Schwartz suffered no injuries.
The Toyota Highlander sustained damage estimated at $ 1,500 to the front of the vehicle, which was evicted from the scene.
According to the accident report, this is the second time that "the driver's foot has struck the accelerator pedal, causing the vehicle to strike in a building."
The R&J building sustained damage estimated at $ 25,000.
On February 20, the Ten Clays, who also own Northwest Iowa Decor & Furniture in Sheldon and TC Home Furnishings Orange City, purchased new and used furniture from R&J and a few warehouses from Roger Sterler.
R & J's has been closed since the sale as the Ten Clays worked to organize the store for the clearance sale.
As part of the Town of Sheldon garage sales from April 29 to May 1, the Ten Clays held a garage sale in the old Bomgaars building, which they purchased in 2020 as storage for Northwest Iowa Decor.
Next, it was announced that R&J's would reopen for a clearance sale on Tuesday, May 18, which will run through Saturday with the hours of 9 am-5pm each day. The former Bomgaars site serves as a second point of sale.